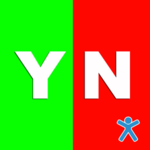 BridgingApps just published the following BridgingApps Reviewed App on the site:
Yes/No from I Can Do Apps is a tool that gives non-verbal students the ability to communicate yes and no. It can be used as a means to answer questions or indicate wants and needs.
We trialed Yes/No from I Can Do Apps with preschool and elementary children. They were able to access the buttons with ease and quickly learn which button to use to communicate their responses. This app is highly recommended for children and adults that are unable to verbally express yes or no.
Click on the link below for full review:
https://search.bridgingapps.org/apps/4f558387-df64-a583-f394-28d2a55e5cd5