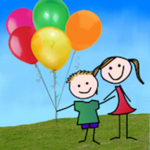 BridgingApps just published the following BridgingApps Reviewed App on the site:
Color SlapPs is a free app that tests a child's ability to receptively identify colors. Simple to use, the app was designed by an SLP and modeled after Discrete Trial teaching. Users are asked to find a color(s) and rewarded with funny sounds and visuals.
Color SLapPs is recommended for SLP's, teachers or parents to make learning colors fun!
Click on the link below for full review:
https://search.bridgingapps.org/apps/e8f242e1-1998-fcb0-58e5-f96abd054535