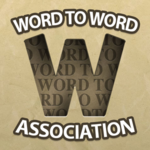 BridgingApps just published the following BridgingApps Reviewed App on the site:
Word to Word is a word association game that challenges users. This is a wonderful app for adults, seniors and individuals who may be house or hospital bound due to physical disabilities or illness, but still want to interact with their friends and family.
Word to Word comes with 40 free puzzles, and you also have the option to buy more puzzle packs, mega-packs, or buying all the puzzles for one low price.
Click on the link below for full review:
https://insignio.bridgingapps.org/apps/b6a23dbe-c36d-435b-92e6-2cfe2956f949