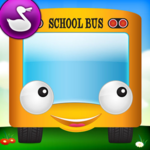 BridgingApps just published the following BridgingApps Reviewed App on the site:
Wheels on the Bus is a fun, interactive, easy to use app for children as young as 12 months. Early learners will enjoy singing, playing, listening, learning and discovering while using the app.
This app encourages interactions between a child and adult as you can sing along together whilst exploring the different animations. There is the option to hear the song in different languages (English, French, Spanish, Italian and German). There is also the option to listen to different musical instruments (violin, cello and piano trio). And, you can record yourself singing the song and listen back which makes it fun for children who love to sing nursery rhymes, or more engaging for children who would like to hear a familiar voice in an app.
The Wheels on the Bus app was trialed with children diagnosed with autism and typically developing children. All of the children who have used this app love the moving animations and the lively music, keeping them engaged for long periods of time.
Click on the link below for full review:
https://search.bridgingapps.org/apps/c82817ab-fa90-6b22-b465-ddc4fc5c239c