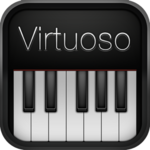 Virtuoso Piano Free 3 is a fun music app available for the iPad, iPod touch and iPhone. This app gives the user the ability to play the piano and a variety of other instruments with a realistic sound quality. Appropriate for users ages 2 and up, Virtuoso Piano 3 can be used to learn how to play the piano or just for fun.
Virtuoso app includes four pianos: a grand piano, a broken pub piano, an electric piano and a radio piano. It can also be set to sound like an acoustic guitar, an electric guitar and a clavinet. It provides all 88 keys of the piano.
Settings include double keyboard, single keyboard and duet mode for iPad only. It also has settings for key labels, touch glow and adjustable sustain. When the app is set with True Velocity, the piano plays soft or loud depending on how hard the player taps the key. The sound quality of this app is remarkable. In addition, the app can play wirelessly to an Apple TV or Airplay enabled speakers.
This app was reviewed with elementary students. Many had no musical training but enjoyed playing with the app and making music. A few students had some formal piano lessons and they were able to play simple songs in the single keyboard mode. They did have some difficulty sliding the keyboard to reach the keys outside the nine key range presented. Also, the ad running at the top of the screen was distracting at first but most children learned to ignore the ad after a short time.
BridgingApps recommends the Virtuoso Piano Free 3 app for reward and simple music training.
Click on the link below for full description and link to download:
https://insignio.bridgingapps.org/apps/5a514ea1-953d-ba12-98f4-f4b5fa02c4d9