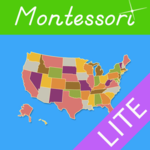 BridgingApps just published the following BridgingApps Reviewed App on the site:
United States of America: A Montessori Approach to Geography is a fun and interactive app that teaches young students about the different states. It is designed for younger students, but is fun and educational for all ages. The app is free to download and users are able to sample select states to learn about. There are several different activities within the app including a learning center, map by shapes and names, and a worksheet area. Purchasing the full version of the app will cost $3.99 and includes the entire map of the United States.
We used the app with young students who are just beginning to study geography and found it to be fun and engaging. The graphics are easy to identify and the app is fun to use. This would make an excellent addition to a Social Studies classroom.
This app is recommended for users who are working on categorization and geography skills and users diagnosed with autism spectrum disorder, developmentally delayed, intellectual disorder and learning disability.
Click on the link below for full review:
https://search.bridgingapps.org/apps/2541b70a-2a70-b536-cdc2-57e2d6570840