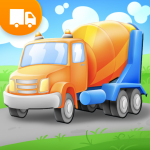 BridgingApps just published the following BridgingApps Reviewed App on the site:
Trucks and Things That Go is a fun app designed for children who love all kinds of vehicles. In addition to typically developing young children, this is an excellent resource for children who struggle with visual motor skills, auditory attention, fine motor skills as well as individuals diagnosed with ASD.
Users can chose from 8 diverse types of vehicles ranging from trucks to space rockets to school buses. Using a touch and drag method, the user moves the vehicle to the correct shape. Once touched the vehicle is verbally identified which assists with word development and picture association. The corresponding vehicle sounds provide positive reinforcement for a correct match.
Click on the link below for full review:
https://search.bridgingapps.org/apps/38ab9193-ac8f-2a5e-cd82-7798579f0608