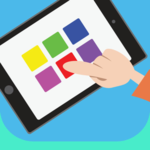 BridgingApps just published the following BridgingApps Reviewed App on the site:
Touch trainer is an app that can be used to teach someone to use touch screen technology. Its simple setup and activation make it an excellent choice to teach single finger touch skills as well as cause and effect.
This app was reviewed with preschool and young elementary aged children with autism. They were given the device and allowed to touch the screen anywhere to see the animation. The children were attracted to the sounds and colors and touched the screen again to see the affect. As the button became smaller, it was more difficult for the child to learn how to activate the screen. Several children required hand over hand training to learn to touch the smaller buttons. 
 This app was very effective in teaching children about how to activate a touch screen device and for learning simple cause and effect skills. It provides immediate feedback when the child touches the device but the rewards are varied and appealing. It is a fun app that holds the child's attention.
Click on the link below for full review:
https://search.bridgingapps.org/apps/f11df164-2fca-aa66-cc53-4c6f5c3ebd36