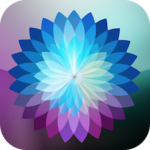 Touch Activated Sensory Light Show is an app that develops attention span, fine motor skills and cause and effect play relationships while offering a sensory experience for users. It can be played with multiple users at one time or it can be played alone by a user as young as two. The app requires the extension and isolation of a finger.
Within the app are two choices with highly stimulating and colorful spinning objects in a space-like background. When the background is touched, another object appears. When the spinning object is touched, another one "blooms" out of it. With each touch there is a coordinating, random sound, but this can be turned off if the sound and visual is too overwhelming.
Since the main skills are early learning and school readiness oriented, this app is recommended for use for users ranging from about 2 to 5 years old. However, a user as old as eight with some developmental delays found the app engaging. This app would be a useful tool for therapists, teachers and caregivers/parents and can have many purposes, from offering a sensory break to being the basis for a discussion about cause and effect.
Click on the link below for more information on Touch Activated Sensory Light Show app:
https://insignio.bridgingapps.org/apps/4d495a9b-1986-4b24-bc8b-d639ea85a8fe