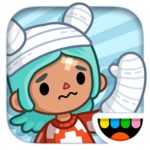 BridgingApps just published the following BridgingApps Reviewed App on the site:
Toca Life: Hospital is an educational app for users of all ages and abilities that helps develop pre-reading, language, creativity and fine motor skills in a fun, hospital-themed and self-paced virtual world. The app is particularly useful for children that have been hospitalized or have visited a hospital with a loved one.
Users can explore five floors of the hospital with different activities and experiences on each floor. The floors include a basement where the ambulance is parked, the main lobby and cafeteria, a lab and treatment floor with surgery and waiting rooms, a nursery and children's floor and doctors offices.
Click on the link below for full review:
https://search.bridgingapps.org/apps/de3aac24-7ed7-4904-a2f9-7be37a8e352e