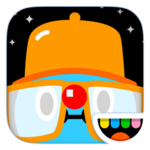 BridgingApps just published the following BridgingApps Reviewed App on the site:
Toca Band is fun entertaining app that allows children to explore sounds and music. There are no verbal instructions given during the app. There is no time limit or scores given. It is primarily for the child to investigate and enjoy making music.
The app is useful in teaching following directions, spatial concepts and vocabulary words involving musical concepts. The app is an excellent reward or reinforcement for concepts taught during therapy.
Click on the link below for full review:
https://search.bridgingapps.org/apps/e38d7725-7301-6b6f-6578-bb466fc1d746