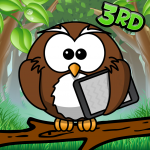 BridgingApps just published the following BridgingApps Reviewed App on the site:
The free version of Third Grade Learning Games introduces learners to decimals and fractions, multiplication and sentence jumble in fun and engaging mini-games. The full version, available via in-app purchase, includes geometry, measurement, division, syllables, parts of speech, grammar and analogies. Ten educational games have students flying spaceships, racing cars and throwing darts as they learn important 3rd grade concepts. Third Grade Learning Games was designed using real third grade curriculums and aligns to Common Core Standards for Math and ELA.
This app is great for independent math practice. Students enjoy Third Grade Learning Games when they are given free time during math. We recommend this app for third grade classrooms and students of all ages working at a third grade level or needing additional practice on the concepts mentioned above.
Click on the link below for full review:
https://search.bridgingapps.org/apps/e93c455d-35f5-e4c0-044d-0c4f9e9a7f84