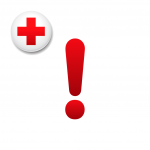 App Review Written By Cathy Foreman
The importance of disaster planning cannot be stressed enough to individuals and families. Having a plan in place and updating it regularly helps to prevent a bad situation from becoming worse. For families who have loved ones with special needs, disabilities, or who are medically involved there are critical extra layers of necessary preparation. But where does someone start with this planning? How does one establish and organize a plan that is clear and realistic for all family members including those with special needs? Where does someone turn to gather reliable, trustworthy and accurate information? And where can this information be centralized and stored so that it can be retrieved quickly in times of greatest need and stress? The American Red Cross and their disaster related apps is the answer to all of these questions. They have developed several excellent apps that help families tackle the responsibility of creating a personalized emergency preparedness plan to serve as a critical resource during and after a disaster hits home.
There are a number of FREE American Red Cross apps. Mobile device users can choose an all-inclusive app called The American Red Cross Emergency app, which contains 35 different weather and emergency situations. There are also several disaster specific focused apps to choose from including Earthquake (iTunes, Google Play), First Aid (iTunes, Google Play, Amazon Marketplace), Shelter (iTunes), Flood (iTunes, Google Play), Hurricane (iTunes, Google Play), Tornado (iTunes, Google Play), and Wildfire (iTunes, Google Play). Complimenting all the American Red Cross disaster preparation apps is an app for children called Monster Guard (iTunes, Google Play). It has been specifically designed ease the worries and teach children disaster safety in a friendly game format.
All of the American Red Cross disaster apps have a similar interface with four sections including a very thorough "prepare" section, a disaster readiness self assessment area, an "alert" or "news" section for receiving official weather warnings, and a "shelter" area that identifies currently open temporary shelters. Each app includes a "toolkit" complete with a device flashlight, a loud alarm, an instant "I'm safe" notification message capability, and access to the American Red Cross First Aid app.
A family with three children and an adult with post-stroke related impairments including executive functioning disorder, aphasia, seizure disorder, a medically implanted device and mobility issues with left side paralysis reviewed the American Red Cross disaster apps. They were extremely impressed with how incredibly thorough the apps are. The amount of information found in the "prepare" section of the apps that is used to educate about various disasters is excellent. The adult with disabilities was completely engaged with the app, which was in part due to the clearly identified red numbered "bullets" of concise information. But he also really enjoyed the "badge" earning interactive "tests" included as "challenges" that has excellent photos and graphics. He really liked the historical disaster information that the app provided him based on his map location. The family noted that their comfort level was very high with the accuracy and reliability of the information presented because they trust the American Red Cross.
Most importantly the 'prepare' section includes an excellent and very clear step-by-step guide to developing a family "emergency game plan". An interactive checklist provided ensured they actually came up with clear-cut plans based on the type of potential disaster. The real guidance provided by the apps helped the family develop individual family member responsibilities that included their family member with disabilities, establish meeting points outside of home, determine and store out of town emergency contacts, and design actual GPS mapped evacuation routes including alternative routes to a selected evacuation point. The established plans are documented and stored within the app but also even shared via email.
Included in the 'plan ahead' area of the apps is a specific disabilities and special needs section that had some blank and possibly buggy portions, but did have some planning checklists that addressed unique needs.
During the BridgingApps trial period the family's community actually experienced several days of dangerous flooding. They were able to receive emergency alerts and follow the weather warnings within the apps. Although the family did not need to evacuate, the American Red Cross disaster apps' "Shelter" section showed them all the actual currently open shelters and directions on how to get there from their home. The family really felt that capability was fantastic and loves having the apps on their devices.
BridgingApps views the American Red Cross disaster apps as an excellent tool for helping families learn about, plan and prepare for a variety of emergencies. It is a true example of how mobile device technology, with well-designed and trustworthy apps, can serve as a powerful resource for individuals and families.