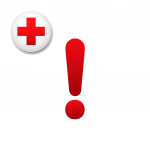 App Review Written By Cathy Foreman
The importance of disaster planning cannot be stressed enough to individuals and families. Having a plan in place and updating it regularly helps to prevent a bad situation from becoming worse. For families who have loved ones with special needs, disabilities, or who are medically involved there are critical extra layers of necessary preparation. But where does someone start with this planning? How does one establish and organize a plan that is clear and realistic for all family members including those with special needs? Where does someone turn to gather reliable, trustworthy and accurate information? And where can this information be centralized and stored so that it can be retrieved quickly in times of greatest need and stress? The American Red Cross and their disaster related apps is the answer to all of these questions. They have developed several excellent apps that help families tackle the responsibility of creating a personalized emergency preparedness plan to serve as a critical resource during and after a disaster hits home.
There are a number of FREE American Red Cross apps. Mobile device users can choose an all-inclusive app called The American Red Cross Emergency app, which contains 35 different weather and emergency situations. There are also several disaster specific focused apps to choose from including Earthquake (iTunes, Google Play), First Aid (iTunes, Google Play, Amazon Marketplace), Shelter (iTunes), Flood (iTunes, Google Play), Hurricane (iTunes, Google Play), Tornado (iTunes, Google Play), and Wildfire (iTunes, Google Play). Complimenting all the American Red Cross disaster preparation apps is an app for children called Monster Guard (iTunes, Google Play). It has been specifically designed ease the worries and teach children disaster safety in a friendly game format.
All of the American Red Cross disaster apps have a similar interface with four sections including a very thorough prepare section, a disaster readiness self assessment area, an alert or news section for receiving official weather warnings, and a shelter area that identifies currently open temporary shelters. Each app includes a toolkit complete with a device flashlight, a loud alarm, an instant I'm safe notification message capability, and access to the American Red Cross First Aid app.
BridgingApps views the American Red Cross disaster apps as an excellent tool for helping families learn about, plan and prepare for a variety of emergencies. It is a true example of how mobile device technology, with well-designed and trustworthy apps, can serve as a powerful resource for individuals and families.