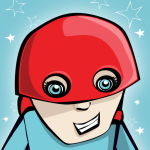 BridgingApps just published the following BridgingApps Reviewed App on the site:
Specifically designed for children, Super Stretch Yoga uses a combination of a friendly animated super hero cartoon character with videos of real children demonstrating poses. It is a great combination that makes the app nurturing, fun, and entertaining. There are twelve different poses demonstrated. Each pose has been translated into kid-friendly, animal-like moves complete with how-to instructions, focused breathing and upbeat music. It is all about fun and doing the best you can while practicing monkey, cat, cow or butterfly like moves.
Yoga specifically has been found to be beneficial to children with special needs. For kids with autism and ADHD it has been reported to reduce aggressive behavior, social withdrawal and hyperactivity and can help address issues of heightened anxiety, poor motor coordination, and weak self-regulation. Some occupational therapists use this app for a warm up activity before attempting difficult tasks. They have found that the children they work with seem to be more focused, better regulated and better prepare to transition to more challenging non-preferred activities.
Click on the link below for full review:
https://search.bridgingapps.org/apps/1c1957d0-540b-695a-3054-fcd03c8d356f