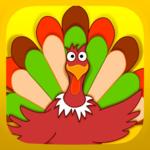 BridgingApps just published the following BridgingApps Reviewed App on the site:
Starfall Turkey is an interactive early learning app for creativity, literacy, math and fun. Children love decorating turkeys, laughing at the turkey's jokes and learning symmetry with animal images. Starfall Education is a trusted name in early learning technology and Starfall Turkey is a wonderful themed addition to their app collection of learning games.
Upon entering Starfall Turkey, the user is given the option of playing Silly Turkey, Animal Symmetry or My Turkey Yard. In Silly Turkey, users can choose a hat to add to the turkey, touch the turkey to color its feathers, and choose a joke for the turkey to share. My Turkey Yard is a scene that displays all the turkeys the child has designed. Animal Symmetry is a puzzle-like game that teaches symmetry.
Click on the link below for full review:
https://search.bridgingapps.org/apps/7efc802a-7439-d979-db39-7a8ffdac7f33