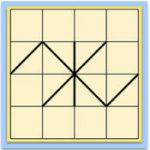 Spatial Line Puzzles is an engaging game designed to improve spatial skills and visual memory skills. This app is good for both children and adults. If used with older adults, it may benefit those with neurological impairments, especially with short-term memory loss.
Puzzles are completed by copying the lines to the empty box. By analyzing the position of the dots or blocks, and identifying how the lines relate to each other, spatial skills are strengthened. For additional stimulation of visual memory skills, the puzzle will disappear after a selected period of time if this option is turned on in the settings.
The puzzles are graded from easy to more challenging according to the following levels: Dot 3×3; Box 3×3; Dot 4×4; Box 4×4; Dot 5×5. The free version offers the first 5 puzzles in the Dot 3×3 and Box 3×3 levels. The other puzzles are restricted to the full version.
Click on the link below for more information on Spatial Line Puzzles:
https://insignio.bridgingapps.org/apps/973e2a2d-7ac1-4ad1-9041-76447d7cadb0