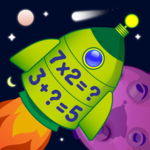 BridgingApps just published the following BridgingApps Reviewed App on the site:
Space Math Hero is a wonderful math app that aligns with Common Core and is designed for kids in grades 1-7. The app allows for multi-users as they are challenged to save the planets in their path on the way to their final destination, Planet Earth. After customizing each player with the level of the student playing the game, astronauts are challenged to destroy aliens before they destroy the planet by answering mental math questions in a certain amount of time.
Space Math Hero challenges students in completing algorithms in addition, subtraction, multiplication, and division, requiring them to use mental math skills to either finish the equation or fill in the missing addends, etc. This app meets 1st – 4th Grade Common Core Math Standards, but extends well beyond 4th grade.
Click on the link below for full review:
https://insignio.bridgingapps.org/apps/336e35f2-042d-4c03-970b-1d63055faddd