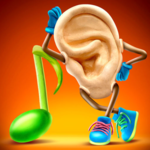 BridgingApps just published the following BridgingApps Reviewed App on the site:
Sound Salad – Help Mr. Ear by sorting sounds is a sound-object association game with interactive activities that help develop auditory awareness, attention, memory and problem solving skills. Through 8 levels, children match sounds to objects shown on the screen.
This app can be used in 9 languages although the developer has done a great job of using simple nonverbal instructions so the language is only used for the story that is an introduction to the app. There are multiple levels to increase or decrease the difficulty level of the app. This app may be very motivating for kids with autism who will relate with Mr. Ear not wanting the sounds mixed up.
Click on the link below for full review:
https://search.bridgingapps.org/apps/4a3e6692-b971-4843-8632-470b409ee586