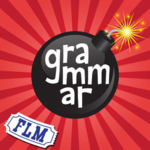 BridgingApps just published the following BridgingApps Reviewed App on the site:
Smashing Grammar is an interactive ELA app that encompasses six areas of grammar. Great for ages 9 and up, the fun app targets verbs, nouns, syllables, spelling, tenses and plurals. This app is a good practice app for typically developing students and those who may be struggling with basic grammar.
Features we love:
Learn nouns, verbs, syllables, spelling, verb tense, and plurals.
Nouns and verbs are presented in the context of a sentence.
Great practice for improving reading fluency (speed).
Exposure to thousands of vocabulary/spelling words.
Click on the link below for full review:
https://search.bridgingapps.org/apps/cbda3fd6-ad5e-409a-9899-226ca6c836e0