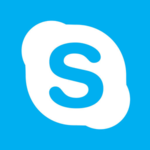 BridgingApps just published the following BridgingApps Reviewed App on the site:
Communication with friends and families, whether they are in your backyard or miles away, is easy using the Skype for iPhone app for voice and video calls. Skype is a free download and available on your Android or Apple phone or tablet. You can even Skype on your computer. Skype is wonderful for people that want face to face communication, but they do not both have iPhones or Apple products allowing them to use Facetime.
Skype even has a real time translator built in, allowing you to hear real time spoken interpretations in nine languages, including Arabic, Chinese, French, German, Italian, and Portuguese. The Skype interface has high-contrast settings that can benefit low vision users and users with little or no color perception, as it makes text easier to read. There is a Magnifier feature which is intended for low vision users as it enlarges the screen and makes text easier to read and images easier to see. You can use "VoiceOver built-in screen reader" or the built-in screen narrator on a Windows based computer to help with vision impairments.
Click on the link below for full review:
https://search.bridgingapps.org/apps/a17c34bf-d951-3141-e2c5-e032069b54b1