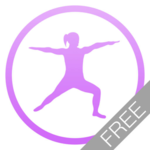 BridgingApps just published the following BridgingApps Reviewed App on the site:
Simply Yoga FREE – Poses & Workouts for Beginners contains a variety of great yoga routines that guide you step by step through each pose demonstrated by a certified personal trainer. The app offers a selection of different levels and difficulties. Simply Yoga is a great resource for dealing with stress as well as a concentration tool.
Using Simply Yoga in a classroom environment or a family home can be an important part increasing physical activity and reducing sedentary behaviors. The payoff is reaching healthy goals of reducing stress and anxiety and increasing confidence while building flexibility, strength and balance.
Click on the link below for full review:
https://search.bridgingapps.org/apps/cbb02115-aa28-9c1c-3311-fdae29a5f63c