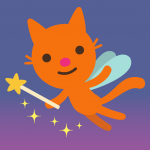 BridgingApps just published the following BridgingApps Reviewed App on the site:
Sago Mini Fairy Tales is a magical and fun explorer app for early learners. This app is great for preschool, elementary and speech therapy students. Mini Fairy Tales provides a rich, playful world, but still leaves enough space for children to introduce their own stories. The beautiful colors and animation make the app appealing and engaging to children.
When exploring Fairy Tales with children, you will come across many fun characters. Ask questions. Who lives in that cave? How is Jinja feeling? Who are these other creatures? Also, see if you can find the references to classic fairytale characters like Rapunzel, Humpty Dumpty, and Cinderella.
Click on the link below for full review:
https://search.bridgingapps.org/apps/b27308f9-6e0a-4b5e-1678-edab5e475e2d