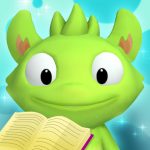 BridgingApps just published the following BridgingApps Reviewed App on the site:
Read with Phonzy: Kids Reading Game is a fun and interactive app that helps users learn to read by recording them reading sentence. The app utilizes the microphone feature on the iPad to listen to and record users as they engage with sentences on the app.
This is an excellent app for early learners who are working on reading skills and language acquisition. We believe this app would also be beneficial for speech and language development.
Click on the link below for full review:
https://search.bridgingapps.org/apps/c91d93b2-4987-45d1-aef8-5025b9ed4349