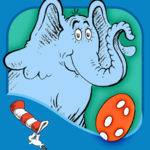 BridgingApps just published the following BridgingApps Featured App on the site:
Just in time for Easter, Dr. Suess' Horton Hatches the Egg is a great app for early learners and kids (young and old) who love books based on the original Dr. Seuss' Horton Hatches the Egg.
We used this app with various students ranging from a 1st grader with autism to 4th graders with learning disabilities and speech/language delays and they all loved it. They really liked the auto play feature so they could listen to the story as if they were watching a movie. This app made reading a very fun activity.
Click on the link below for full review:
https://search.bridgingapps.org/apps/14069732-da8d-4765-80ec-9eb5aa8960f8