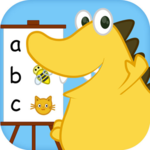 BridgingApps just published the following BridgingApps Reviewed App on the site:
Phonics Keyboard is a keyboard app designed for early readers and spellers. Learners enjoy the fun and friendly images on each key to help find letters. This app is especially helpful for children who struggle with identifying letters and hearing letter sounds.
The keyboard is an alphabetical keyboard making it easier for students who struggle with a QWERTY keyboard. Depending upon the student they are able to use the picture keys or just the letter keys allowing for individualization. The app has been particularly beneficial to non-verbal students.
Click on the link below for full review:
https://insignio.bridgingapps.org/apps/9719d049-951e-483f-9c74-5821feb4c70c