So, will he ever speak? | Braxton's Success with AAC
Written By: Vanessa Vaughan, Braxton's Mother
When Braxton was given the diagnosis of Rubinstein-Taybi Syndrome  (RTS), we learned from other families that many of the children are non-verbal and use sign language or a communication device to speak. There are many who have at least some words and a few who are very verbal. Where would Braxton fall on that spectrum? I don't know.
By that time, we had already started on the path to high tech Augmentative and Alternative Communication (AAC), and the diagnosis confirmed this was the path we needed to pursue, always holding on to the hope of verbal speech. We saw little progress at first, but we saw enough to keep hope alive and to continue this path. The dream has always been (and will always be) verbal speech, but the goal is communication. Communication using whatever means necessary.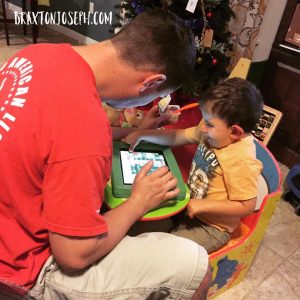 As we have worked on using Speak for Yourself, a communication app on the iPad, quite heavily in the past year, the inevitable question has become "So, will he ever speak?" I don't know.
I don't know if he will ever speak.
I don't know if we will ever hear his precious little voice.
I don't know if I will ever have the chance to tell him to stop talking. (I don't know that I would ever want to say that after waiting so long to hear him).
I don't know what the future holds. We simply hope for the best.
Here's what I DO know…
I know that by pursuing AAC we are giving him a way to communicate with us NOW.
I know that AAC is giving him his best chance to succeed.
I know exactly when he wants hugs and kisses, because now he can tell me with his talker.
I know exactly which toy he wants to play with.
I know that he likes to read.
I know that he likes to be outside.
How do I know? I know because he can ask for it himself using his communication app.
To see this explosion of communicative skills grow right before my very eyes is nothing short of a miracle. Today, he was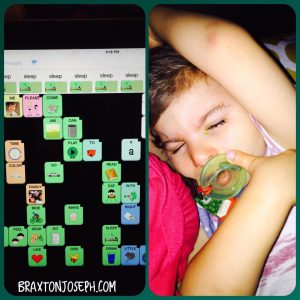 roaming around the living room with a slight whine and I tried so hard to find out what was wrong. He had just eaten not long ago, he had a fresh diaper, and he was playing with his toys. I looked around to see if a toy was broken or not working as intended, but nothing. I sat down and rhetorically asked what was wrong. Braxton saw his talker and walked right over to it, turned it on and hit "sleep" repeatedly. Then he climbed on to the couch where I sat watching him, laid himself down in my lap, pulled my arm around him and closed his little eyes.
The dream is verbal speech, but the goal is communication. Braxton just purposefully and successfully communicated to me that he was ready to go to sleep. Because of AAC, we can check that goal off our list.
Braxton now has a way to communicate and interact with the world around him. He can tell me what he wants, he can tell me what he likes, he can tell me that he loves me, he can tell me anything he wants, because we have provided a means to do so. Speak for Yourself has given Braxton a voice. A voice he is learning to use quite well!
So, will he ever speak? I don't know. I haven't given up on verbal speech. I would still LOVE to hear his voice, but I LOVE that I now have a way to know what's going on inside his beautiful mind even more. One day, maybe he will verbally talk to us, but for now, he's communicating and I couldn't ask for anything more than that.
[iframe id="https://www.youtube.com/embed/aDVMw-9P-S0″ align="left" mode="normal" autoplay="no"]