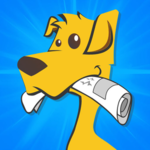 BridgingApps just published the following BridgingApps Reviewed App to the site:
News-O-Matic, Daily Reading for Kids is a fun, engaging and accurate digital news source designed for kids. The magazine-like app contains interactive activities and videos. Each day, News-O-Matic features five stories covering the United States, international news, arts, sports, science and more. News-O-Matic articles are written by a staff of journalists including educational experts and reviewed by physiologists to ensure age appropriate content.
The app is great for typical developing learners, early readers, struggling readers and ELL students. One of our favorite features of the app is the differentiated reading levels. Settings allow users to set the reading level by choosing from K to 2nd grade, 3rd to 4th grade or 5th grade and up. The 'read to me' feature is great for early and struggling readers. Definitions and pronunciations are easily available when users touch a word within an article. And, the app has a Spanish translation available.
Click on the link below for full review:
https://search.bridgingapps.org/apps/3b116543-95b6-4cd2-9b7f-79a3ed0e532e