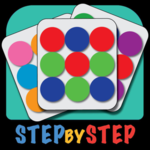 BridgingApps just published the following BridgingApps Reviewed App on the site:
Mosaics – Arrange colorful pieces to form a mosaic is an engaging app that allows the user to manipulate through drag-and-drop technology to arrange colorful shapes into interesting mosaics. Users can test their matching skills by recreating a variety of templates, which the user can choose based on the level of difficulty or complexity.
This app is an ideal platform for teaching shapes, colors and pattern recognition, and can be used a platform for beginner math. Mosaics is also a wonderful tool for early learners to practice fine motor skills, along with improving cognitive functions (generalization, categorization, abstraction and memory). It can serve as a tool for practicing positive behaviors like sharing (when using multiple players), accuracy, attention and focus. This app also tracks data for each user, such as the date, number of errors, task duration and score. This can be extremely useful for teachers, therapists and other professionals who use analytics to measure student performance.
Click on the link below for full review:
https://search.bridgingapps.org/apps/dbd88302-661f-4717-8d22-85a02203b297