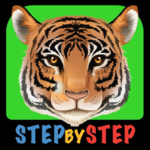 BridgingApps just published the following BridgingApps Reviewed App on the site:
Animal Jigsaw – Assemble 4 pieces of a picture is an engaging app that is part of a suite of game-based learning tools designed for early childhood learning. Animal Jigsaw allows the user to manipulate through drag-and-drop technology to recreate animal images. Users can test their matching skills by solving the puzzle (putting the pieces together correctly), and can choose from 20 different animal pictures.
This app is an ideal platform for teaching vocabulary (animal names), colors and pattern recognition. Animal Jigsaw can be used in multiple settings, such as in the classroom, in therapy, or at home, as a platform for speech and language development. Animal Jigsaw is also a wonderful tool for early learners practicing key cognitive functions (generalization, categorization, abstraction and memory). It can also help promote pro-social behaviors like sharing (when using multiple players), accuracy, attention and focus.This app comes with three 'bonus' activities, including a coloring book, a sticker book, and memory-matches, all of which provide hours of fun and practice of fine-motor skills (purposeful touch and isolated index finger).
Click on the link below for full review:
https://search.bridgingapps.org/apps/aa0d9904-be1d-4290-8c54-44b6461a847d