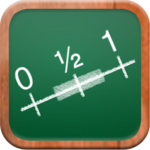 BridgingApps just published the following BridgingApps Reviewed App on the site:
MathTappers: Estimate Fractions is a math resource app that allows users to practice their fraction estimations in a serious of games. The standards-aligned app is free to download and includes single fractions, adding fractions, and subtracting fractions from 0-2.
A nice feature of Estimate Fractions is the ability to turn on several options and play the game different ways. Once users feel comfortable enough, they are able to turn off the visual hint feature. The app also allows for multiple user profiles and keeps track of each user's progress, including accuracy and time.
Click on the link below for full review:
https://search.bridgingapps.org/apps/77d7e908-076c-95a6-aebb-9f6bf1167295