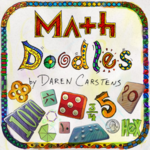 BridgingApps just published the following BridgingApps Reviewed App on the site:
A standards-aligned app perfect for students from first grade through sixth grade of all abilities, Math Doodles introduces four challenges that provide mathematical practice within a fun math setting. The math puzzles allow users to play, explore, and experiment with math concepts, while developing and strengthening their strategy and problem solving skills.
Using the Math Doodles app, students are encouraged to become familiar with twenty-two different ways of representing numbers, such as numerals, tally marks and words. Children gain a deeper understanding of math concepts and thinking, which will help them understand future concepts more easily. Math Doodles challenges are designed to allow for multiple solutions and strategies. Each game is leveled to allow learners of various levels to play and learn.
Click on the link below for full review:
https://search.bridgingapps.org/apps/7ab64166-0eb0-3dfa-69e4-da4be41b0f44