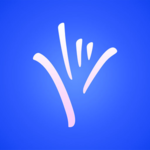 BridgingApps just published the following BridgingApps Reviewed App on the site:
Marlee Signs is an easy way to start to explore American Sign Language at your own pace from Marlee Matlin, an Academy Award winning actress. This user-friendly app is free to download and comes with your first lesson pack, titled "You". Other lesson packs (consisting of 4- 6 lessons each) are available for purchase at a price of $1.99 per lesson pack.
Marlee Signs is an inexpensive way to carry a sign language dictionary with you all the time. The videos are visually clean and the Slow Mo option really helps if you are having trouble mastering the hand/ finger movements. We used this app with a typically developing 9-year-old girl with very little previous sign language knowledge. She was able to watch the videos and practice the signs, teaching herself several basic signs independently. This app could serve useful for children and adults of all ages who want to learn basic sign language or to have a simple way to look up signs to communicate with people who use ASL (American Sign Language).
Click on the link below for full review:
https://search.bridgingapps.org/apps/50944596-7db7-4b9f-b05e-d6575ec34fe5