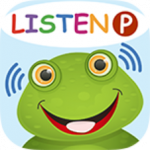 Listening Power Preschool HD is an app for developing language and listening skills. The app is perfect for the following: strengthening typically developing children's language and listening skills, children will special needs including autism, children and adults who are new to the English language and culture, and speech-language pathologists. Available for $19.99 in iTunes, Listening Power Preschool is compatible with iOS devices.
Skill activities included in the app are listening for adjectives, directions, grammar & meaning, stories with and without pictures. Listening Power Preschool uses beautiful visual and clear auditory instructions. The app increases the level of difficulty once a user answers 6 questions correctly or the facilitator can choose manual and change the level. Within the settings the facilitator can also add text to the auditory stories to help users who need to see the words as they listen. Level of difficulty can be changed within settings from the default 2 choices to 3 or 4 choices.
Our reviewer uses this app individually with students who are struggling with auditory comprehension and following directions. The students love the visuals and the melodic voice of the reader. As students progress the teacher increases the choices from 2 to 4. They have found Listening Power Preschool to be an asset tracking and presenting data. The stories are simple, but users need to pay attention to the details especially when they listen to stories without pictures.