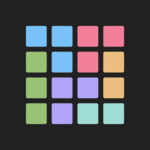 BridgingApps just published the following BridgingApps Reviewed App on the site:
Launchpad – Make & Remix Music by Novation is a fun app that can used to address a variety of goals and objectives in a therapy session or for at home use. This app gives the user an opportunity to create, mix and express themselves through creating music with either the soundpack that it comes with, or you can purchase new soundpacks. The app has a fixed beat so the user will be locked into the beat of each composition. For older users they can import their own sounds and create new music and then share music on YouTube, Facebook, Dropbox, Soundcloud or via email.
Launchpad can give users an outlet for self-expression, work on attention, social skills, sequencing, turn taking, speech/communication to list just a few possible goals. This can be used within a classroom, at home or in a therapy session for users with Down syndrome, autism, ADD, speech disorders, developmentally delayed and with older populations.
Click on the link below for full review:
https://search.bridgingapps.org/apps/4138d414-a906-ac01-8cc3-b9beccaba6d5