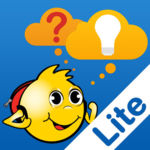 BridgingApps just published the following BridgingApps Reviewed App on the site:
Kidspiration Maps Lite was designed to help kids organize and classify information, work on sight words and expand ideas into written and verbal expression. Using this lite version of the app, kids can work with up to five diagrams to create maps, edit and stylize content, transform diagrams to outlines, and try out the built-in activities to help them understand what they are learning. It is a great app for classroom or individual use brought to us by the same company that brought us Inspiration Maps.
This app works well with kids in lower elementary grades or older kids who need more visuals for organizing their thoughts. We have trialed this app with kids who have learning disabilities, autism and speech delay.
Click on the link below for full review:
https://search.bridgingapps.org/apps/ce7d2e30-48ce-5a27-4892-d67efe621bea