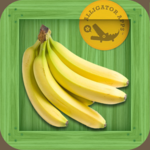 BridgingApps just published the following BridgingApps Reviewed App on the site:
Flashcards for Kids – First Food Words is a free educational app that is great for early learners and ELL students. Images are high quality and narration is clear. Pictures are paired with a word and users simply touch the screen to move to the next picture. The free version includes common foods including breakfast, dinner and vegetables with an option to unlock other foods such as types of candy and desserts.
A few skills that can be targeted with Flashcards for Kids – First Food Words are: imitation of single and multi-syllabic words, word recognition, categorization and vocabulary building. This app may benefit typically developing users and individuals diagnosed with autism, developmentally delayed, Down syndrome, speech and/or language disorder.
Click on the link below for full review:
https://search.bridgingapps.org/apps/353c4625-2658-4860-9264-622fe944e200