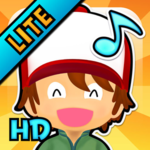 BridgingApps just published the following BridgingApps Reviewed App on the site:
My First Songs Lite – Music game for kids and toddlers. Catch the rhythm and sing along popular children songs! is a nice app to use with younger children in an individual session or home setting.
The app is free and comes with 4 songs with the option to purchase more. Students can follow along with the songs at the bottom of the screen. There are a series of dots, long bars and what they call "swirls". Students can tap or touch the dots to the beat of the music to work on fine motor, listening, reading, language attention to task, auditory processing and beginning music concepts such as steady beat.
My First Songs Lite can be used with students both with and without disabilities ages 5+. Students will need to have the fine motor and visual coordination to touch faster moving dots that move across the bottom of the screen. This app can be used both with and without sound depending on the goals you might be working on with your student or child.
Click on the link below for full review:
https://search.bridgingapps.org/apps/0b0cc3d7-1d84-4fcf-a509-6b3cc35f21b7