FEMA App Reviewed by Cathy Foreman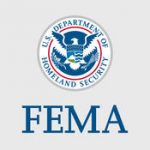 There is no argument that it is important to be prepared in case a disaster strikes. Knowing we should be prepared does not necessarily mean we actually accomplish the disaster preparation task. The Federal Emergency Management Agency (FEMA) has come up with an interesting and very helpful way for families to be safe when disaster strikes by providing tools and resources, presented in the form of a mobile device app, to assist with preparation before, during and even after a disaster event. The FEMA app is FREE and available for iOS and Android devices.
There are extra layers of necessary preparation critical for families who have loved ones with special needs, disabilities, or who are medically involved. The FEMA app serves all families by providing guidance to organize and centralize many pieces of information and to create family disaster action and communication plans.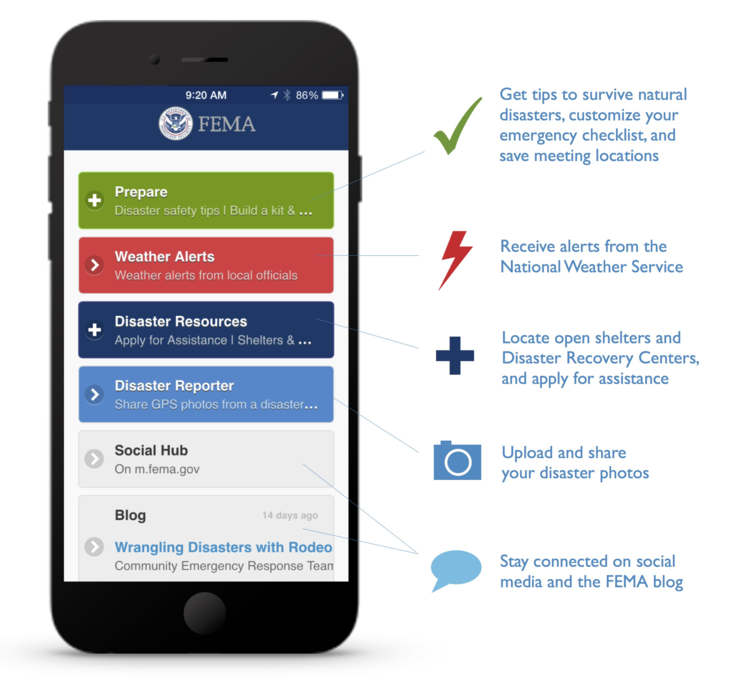 The FEMA app is organized into four main areas :
The Prepare section is a critical area providing specific information on what to do before, during, and after 16 different actual types of disasters including earthquakes, flooding, winter storms, home fires, and flooding. This section also provides an interactive check list with recommended items to include when building a basic emergency supply kit. An option to create a customizable list for a family's specific situation allows for flexibility with individual needs. One last feature in this section facilitates the user to plan and document both in-town and out of town emergency meeting locations.
The Weather Alert section is a feature that enables users to receive immediate weather alerts from NOAA's National Weather Service in up to five locations across the country. This section takes only a couple minutes to set-up and is highlighted on the app with the use of a red tab. It is important that a mobile device is set to receive these notifications. When an alert is communicated to the mobile device, the user can tap on the alert to learn more about the specific weather threat.
A Disaster Resources section hones in on how to receive assistance following a disaster. A user is directed to DisasterAssistance.gov where by entering an address it can be determined if the area located in a zone that has been declared eligible for "Individual Assistance". An interactive questionnaire guides users to what various types of assistance they may qualify for and includes online assistance applications. FEMA assistance phone numbers, including a TTY access number, are housed here. A very impressive feature in the resource section is a list of available shelters by geographical location. Once a shelter is selected, the user is provided with directions on how to get to the shelter from their location through by using a mobile device map. This information is very valuable, but does require FEMA maintenance to ensure it is accurate and current. The locations of current and local Disaster Recovery Centers and mobile offices for FEMA information and other disaster assistance programs are included with maps and hours of operation.
The family that used the FEMA app during the BridgingApps trial period lives in a large metropolitan area that is located in a hurricane prone area and where flooding occurs. The trial period actually occurred during a time when their city received days of very heavy rains and unexpected damaging floods. The family, who has an adult member with limited mobility and cognitive impairments, was in the process of developing family action plans based on various disasters. They had a plan for evacuating their household in case of fire but with the immediate reality check, came up with safety, evacuation, and meeting plans in case of household flooding. The FEMA app served as a reference guide and helped the adult family member guide this discussion with her children on what to do if water levels reached inside their home. They had the very important discussion regarding each family members role in maintaining a safe environment for their loved one with very limited mobility. This family member remained engaged and focused in the situation by also having the FEMA app installed on his device. He helped to monitor the weather alerts and liked feeling useful. This family noted that they will be storing a paper copy of their emergency supply kit contents, their family emergency plans, and some contact phone numbers in case there is not a way to keep their mobile devices charged and functioning.
BridgingApps stresses the importance of having family emergency plans particularly when there are family members needing electricity for medical equipment, critical medications, and a supply of safe drinking water. The FEMA app is an example of a good tool to make sure that planning happens.
Click on the link below for the full FEMA app review and links to download the iTunes and Android versions:
https://search.bridgingapps.org/apps/970f7962-6b51-4d71-b08b-2eb0a2fbcb38