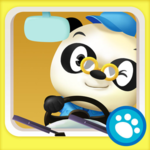 BridgingApps just published the following BridgingApps Reviewed App on the site:
Dr. Panda Bus Driver is a fun app for children to drive a bus around town, picking up passengers and getting gas along the way. The child has to put the bus in gear before it will move and they can navigate through the streets of towns, countryside and mountains. The bus will pick up and drop off passengers along the way.
This app is highly recommended for children as reinforcement for concepts taught or for use in carryover of skills learned. It is a good app for teaching basic social skills such as greeting and giving personal information. This app is one of our most popular apps and students request to play it often.
Click on the link below for full review:
https://search.bridgingapps.org/apps/57337e5b-f3ae-4b09-a18c-3be064e490cb