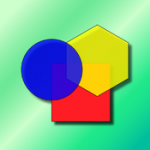 Color My Shapes and Compare is an app designed to help young children learn to identify colors and compare shapes. Concepts presented in this app include big, little, long, short and tall. This early learning app will help develop the skills of classification, cognitive, following directions, language and skills. Color My Shapes and Compare is available at the iTunes Store for $1.99 and is compatible with the iPad.
When opening the app, the facilitator is asked to select a paintbox and challenge. The paintbox option gives a choice of "basic" which has 5 colors and "advanced" which has 10 colors. There is also an option for 4 challenges. These challenges are: 1.) Compare and color big and little shapes. 2.) Compare and color long/short shapes. 3.) Compare and color tall and short shapes. 4.) Compare and color long, tall or short shapes. In the 4th challenge, the child is presented with objects to identify and color.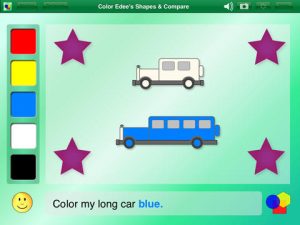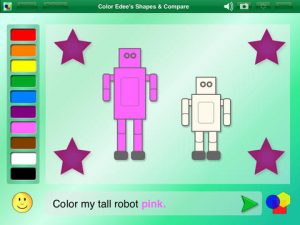 This app was reviewed with preschool children diagnosed with autism and/or developmental delay. The teacher set up the app for the user and read the instructions on each page. The app gave reward sounds but did not read the task aloud. The children were asked to touch the color first and then the shape described. There were 6 items in each challenge. The children responded positively to the reward sound and completed the challenge presented.
BridgingApps recommends this app for children learning basic color and sizes. It does require assistance so the child's attention and progress can be monitored.