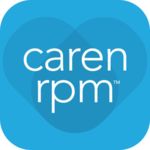 BridgingApps just published the following BridgingApps Updated App Review on the site:
Recently updated, Caren RPM now allows you to digitally store a separate set of documents for yourself and each loved one. You can store images of insurance cards, physician business cards, and legal documents by taking a photo or by uploading a graphic file or PDF. All documents are securely stored in the cloud and available at your finger tips when you need them.
Caren RPM is a voice interactive platform that makes it easier to record and share health information with healthcare providers and family. The app enables users to input measurements by speaking, provides peace of mind knowing doctors viewed data, and allows users to add followers to the patient's 'village'. Caren RPM requires minimal steps to complete tasks and is beautifully designed for users with low dexterity, low computer literacy, and physical and mental challenges. Caren RPM is ideal for monitoring patients in hospice, with disabilities, or with chronic illnesses such as diabetes and hypertension.
User Laketha Cooper, Ed.D shares her experience with using the app:
"This app has been amazing with helping myself and my husband track our blood pressure and heart rates. We really love how personalized the app is and how we can view each others readings. We also love that we have been able to share our readings with our mom. Since my husbands open heart surgery it has been extremely important for us to track his blood pressure. Prior to knowing about the app I already had blood pressure. So with us both having to track our pressure regularly it has made it so much easier.

We used to have to go to our blood pressure monitor to figure out which pressure came next, but the app tracks the date, time, and pressure/heart rate for us. My physician always asks for my pressure over a period of time to determine if my prescription is working properly. By opening the app, I am able to tell her right away my information. She was actually shocked and said she wished more people had this app. Either way, I can honestly say that the ease of the app and the detail of it has been a life and time saver."
Click on the link below for full review:
https://search.bridgingapps.org/apps/2cb96dc6-aab8-4861-a058-4eb2747a909c