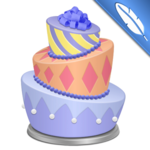 Cake doodle, ideal for children between the ages of 3 and 10, is an app for play and developing the skills of sequencing, following simple directions, classification, and attention. The app can also be used in speech and language therapy for communication, speaking and listening. Compatible with the iPad, Cake Doodle is available at the iTunes store for $.99.
The app presents the child with choices of 14 different cake flavors and recipes. After choosing the cake flavor, the recipe is given. The user has to put each ingredient into a virtual bowl. Some ingredients have to be measured, poured, cracked or shaken into the bowl. After the child "stirs" the batter, they choose a cake pan to make the cake in. There are 18 cake pans to choose from. Next, the child bakes the cake in an oven. After the cake is finished baking, the child can pick from a variety of frosting colors and decorations for the cake. When completed, the child can take a picture of the cake and then "eat" it.
This app was reviewed with elementary aged children with developmental delays. They enjoyed making the cakes and pretending to eat them. They were able to work on listening skills, following directions and making choices. While decorating the cake, the child can practice identifying and naming shapes, colors, sizes, candy, fruits, flowers and animals. There are so many choices for the child to make, the app can be used many times working on different skills each time.