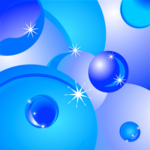 BridgingApps just published the following BridgingApps Reviewed App on the site:
Bubbles is a fun app for learners of all ages and abilities. Swipe your fingers on the page to make bubbles appear and then touch the bubble to pop it. There are sounds effects when the bubbles are popped.
Children learning to draw shapes, letters and numbers enjoy using this app for practicing those skills. This app is also great for attention, turn taking and requesting.
Click on the link below for full review:
https://search.bridgingapps.org/apps/e755f3e5-8400-9016-77a9-5bb6b4fbc9ef