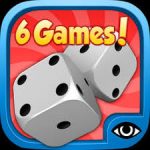 BridgingApps just published the following BridgingApps Reviewed App on the site:
Dice World is an app for iOS and Android which allows players to play 6 dice games online with one other human or computer player. The app is designed to work well with both VoiceOver on iOS and TalkBack on Android. The available games are Farkle, Yatzy, Balut, Pig, Threes, and 1-4-24.
While Dice World is a fairly simple game, it offers many hours of fun. The social aspects are great for those who like to compete or brag about scores, and the turn-based multiplayer system is very cool. If you love Dice games and love the idea of playing them with your friends in a relaxed environment without having to worry about playing right away, go check it out.
Click on the link below for full review:
https://search.bridgingapps.org/apps/4b9b941e-4039-4e09-a0fa-221c283fa4e6