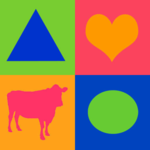 BridgingApps just published the following BridgingApps Reviewed App to the site:
Baby Games My First Shapes is designed for toddlers and preschoolers learning the names of shapes. This app is great for typically developing early learners and those diagnosed with developmental delay.
This app was reviewed with preschool children with an autism diagnosis. They listened to the pleasant voice that presented the shape names. They were motivated by the sounds and words on the app. The app was used as reinforcement for structured work in therapy. It was highly entertaining and motivating for the children.
Click on the link below for full review:
https://search.bridgingapps.org/apps/0248dbc9-9761-06fa-75e9-aec7aa503334