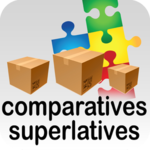 BridgingApps just published the following BridgingApps Reviewed App on the site:
Autism iHelp-Comparatives and Superlatives is an app designed to help with vocabulary development of adjectives through comparisons. Autism iHelp was inspired by the need for specific language intervention tools for children with ASD focusing on their unique strengths and difficulty with expressive vocabulary.
Comparatives compare two items using the –er ending and superlatives compare three items using the –est ending. The app also teaches the understanding of the adjectives of big/small, tall/short, and heavy/light. There are two games to play for each concept and two games to play with concepts mixed together.
Click on the link below for full review:
https://insignio.bridgingapps.org/apps/2274aaeb-2b26-ad17-11c9-e739d179ae74