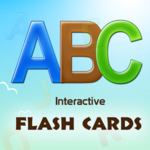 BridgingApps just published the following BridgingApps Reviewed App on the site:
ABC Interactive Flash Cards promotes learning the alphabet by introducing letter identification, order and tracing tasks in a visually appealing and interactive app. The letters are presented individually and paired with an auditory introduction, corresponding picture and upper and lowercase grapheme.
The app provides opportunities to practice writing uppercase letters within a tracing pad. Pictures are common words associated with each letter that have animated characteristics. The goal of the app is to help young children, developmentally 3-6 years, learn the alphabet in a fun and engaging format, allowing for an interactive learning experience.
Click on the link below for full review:
https://search.bridgingapps.org/apps/78efcbd8-4efb-a204-c46a-9c76908dce66