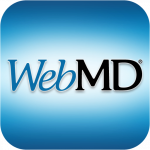 Long known for its online presence as a medical information resource that is centered around symptoms, WebMD for iPad has taken it's database and search function into the mobile device technology market with it's WebMD for iPad app. The portability and instant access to the vast amount of medical information contained within WebMD is the highlight of this app.
WebMD for iPad organizes it's content with five categories of information: a symptom checker which allows the user to select various symptoms they are experiencing to formulate a list of possible medical conditions, a database filled with descriptions of many different health conditions, a thorough drug information section, a first aid reference area, and a location service for finding nearby physicians, hospitals, and pharmacies.
A seniors group who live independently interacted with the app and highlighted the health provider location service and the first aid information area as their favorite parts of the app.
A family with a loved one who is medically involved also trialed WebMD for iPad. The adult family member, who had a stroke resulting in physical and cognitive impairments, is now working to increase his independence. He was able to navigate through the app successfully and enjoyed the symptom checker feature where he just simply had to tap on a human body image in the location where he had concerns and a checklist of possible symptoms appeared. Once symptoms were selected a list of possible health conditions were formulated and served as a good reference for him. His family caregiver noted that she really thought the medication area was extremely helpful and clearly organized. She typically throws away all the loose pharmacy handouts and likes having the easy access on her tablet to drug side effects, precautions, and interactions information available within WebMD.
BridgingApps sees WebMD for iPad as a very good tool for families to use to develop and fine-tune their communication and questions in preparation for when they interact with their health care team but cautions against any self-diagnosis. The drug and treatment section is excellent to educate users on potential and sometimes very serious drug, food and nutrient interactions as well as side effects of certain medications. The capability to select and store one's medical conditions and medications is a feature of this app, but BridgingApps suggests a user stores that personal information on other apps designed specially for managing ones own or family's health care and to use WebMD as one of their references for medical information.
Click on the link below for full review:
https://insignio.bridgingapps.org/apps/20083366-5356-46bd-842a-cd1cc8db495d