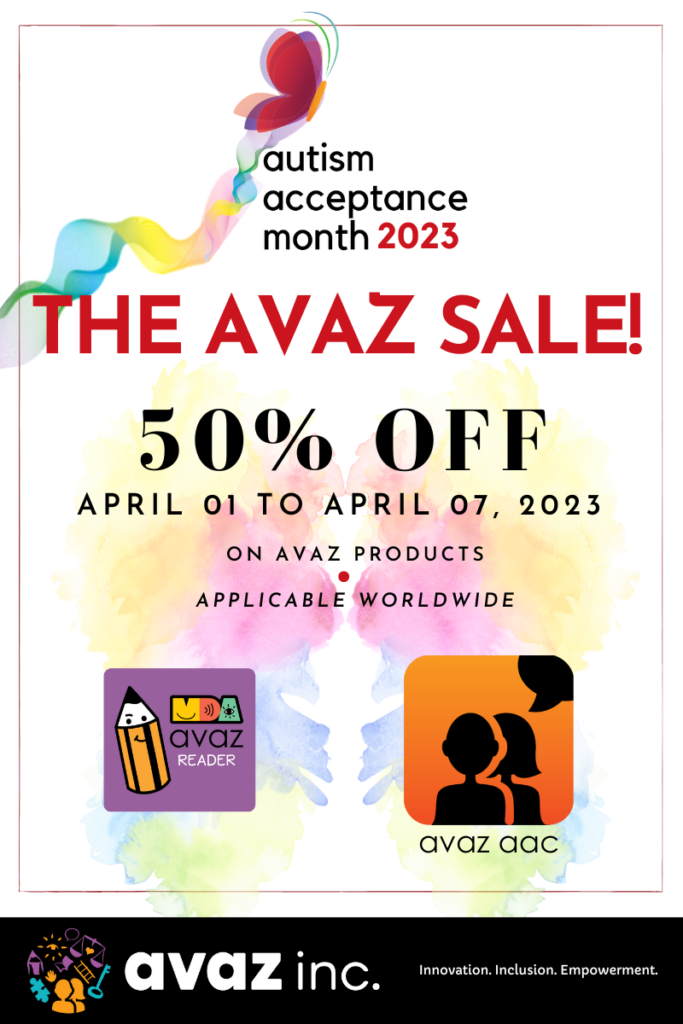 April is observed as Autism Acceptance Month across the world.
In honor of this observance, Avaz offers deep discounts across their entire range of Avaz products.
This year is no different! Team Avaz is proud to celebrate Autism Pride and the entire spectrum of neurodiversity 🙂 The Avaz Sale is their humble contribution towards enabling neurodiverse people everywhere to live their best lives.
The Avaz Sale
Avaz is offering a FLAT 50% DISCOUNT on their products from April 1 to 7, 2023! 
This discount is applicable on the following Avaz products:
Avaz AAC : An award-winning communication app for users with speech difficulties arising from ASD, Cerebral Palsy, Down Syndrome, Aphasia, Apraxia, stroke & more. Learn more about Avaz AAC here.
MDA Avaz Reader : An education app that enables struggling readers become independent readers using research backed strategies. Learn more about Avaz Reader here.
Please note: The discounted prices are applicable on the Lifetime purchase of Avaz AAC and MDA Avaz Reader apps.