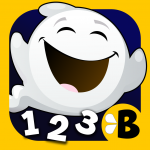 BridgingApps just published the following BridgingApps Featured App on the site:
Giggle Ghosts is an early learning app for math, hand-eye coordination and fun. Children will enjoy helping the Giggle Ghosts get to a party on time by bouncing them off musical chimneys. This is a great interactive app for children between the ages of 2 and 5.
The game features 4 levels that teach basic math skills (counting and numbers) and simple physical science (anticipating a trajectory). Kids also have fun with the bouncing, laughing ghosts, plus the musical chimneys and all the surprises that await them at the ghost party.
The graphics and sound effects are wonderful. And, the giggling ghosts are adorable which makes this app a fun and engaging math counting activity for young learners. Giggle Ghosts is super easy for children to play independently. All of the early learners we trialed this app with really enjoyed it.
Click on the link below for full review:
https://insignio.bridgingapps.org/apps/48d67c3a-ce1d-250c-8a1d-31874c3747b6